Submitted by

jrobens

on August 13, 2013

MeetingManger takes the manual work out of running meetings and keeps records. MeetingManager consists of meetings, agenda items, minutes, action items and tasks.
MountainRiver has the MeetingManager as sofware as a service. Just subscribe.
Briefly the process involves creating the meeting, inviting people to submit agenda items. The agenda items are collated for the meeting and minutes recorded. Minutes may be votable or for noting and action items attached. The action items can be marked 'done' or are left as in progress. 
MeetingManager allows you to download the entire meeting, including attachments for work during the meeting.  Minutes of the previous meeting available as attached to the current meeting. View videos of the meeting initiation process and adding minutes and actions. An overview follows.
Create a Meeting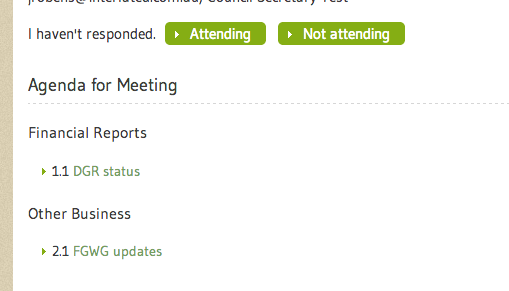 Create the meeting and invite the attendees. The attendees will be a member of your group so that they can also share other kinds of documents. A clone tool is available if you need to create a number of meetings.
The agenda is categorised according to standard meeting elements, as required for association reporting purposes such as Welcome and Apologies, Action Items from the Previous Meeting and Financial Reports.
Invite People to Add Agenda Items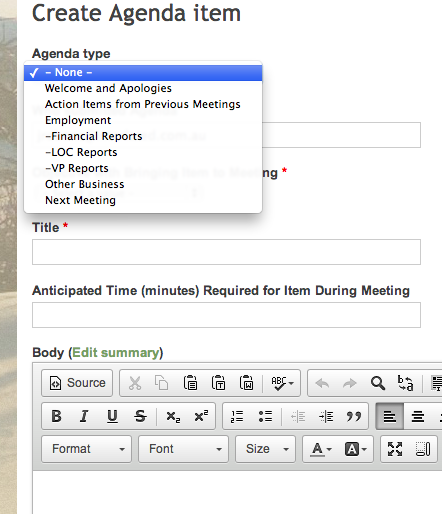 An email is sent around asking if people are attending or not and whether they have agenda items to submit. The agenda items close-off time can be set at any time prior to the meeting. The default is 2 days prior.
Agenda items can be submitted with a purpose, such as For Ratification, For Voting, For Noting Only.
Attendees have the option to download all of the meeting resources as a zip file so that they have them offline during the meeting.
Hold the Meeting
The meeting is run and minutes can be entered during the meeting or after by the secretary. The minutes can be circulated in full or abridged (without minute details) form.
Minutes
Minutes allow details to be recorded on voting and who the proposer and seconder are. 
Actions

Actions can be attached to minutes. Each action may have a due date and notify people who are assigned actions. The actions are recorded on the group home page and can be marked as completed when done.