MountainRiver CMS has integrated a number of ways to commercialise a website. Some of these include online subscriptions, shops and paywalls.
Online Subscriptions
MountainRiver CMS provides an integrated customer relationship managment (CRM) system with the web content management system. This means that people can subcribe to a website using membership expiry rules provided by the CRM. At interlated.net we have monthly with grace period and annually. DocDownload has subscriptions that expire on the anniversary of the membership. The Ecological Society of Australia has its subscription expiry set to a specific annual date.
Example pathways include:
Corporate target, research/investigation and purchase 2 user (limited) licence to start internal trial.
Corporate target, research/investigation and 30 days free trial.
Purchase a short-term subscription to trial.
Purchase 'basic product' with the idea of extending the product (add on sale) depending on effectiveness of the initial investment. 
Shops
Shops are the purchase method that most people think of when they think of buying things via a website. MountainRiver has created numerous shops, some notable ones being YogaPass.
The standard online shop solution provided by MountainRiver CMS is solid, flexible, supports a fulfillment process and integrates with a number of commonly available payment systems.
Paywalls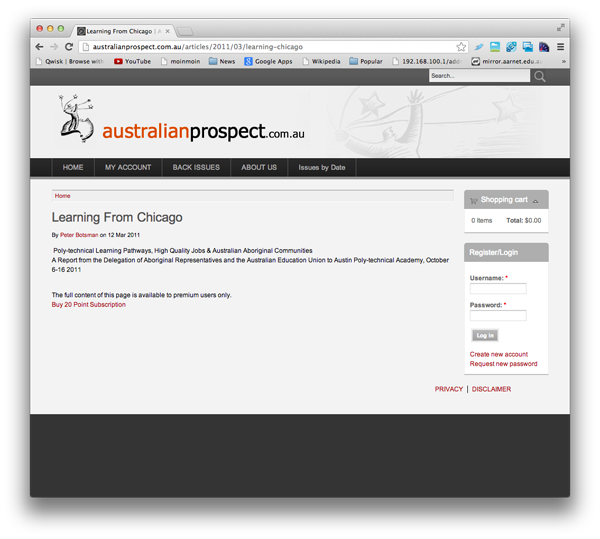 Paywalls are a solution where people can preview an article and then either buy credits and download or follow a 'shopping trolley and checkout' model. 
Points. Peter Botsman in Australian Prospect uses the points system. People can buy 20 points for $20 and use them to download articles for as little as 60c each, depending on the number of credits purchased. This model is best suited to journal type publications where the subscriber will want to regularly keep track of updates in a key topic area.
Purchases. A more traditional book purchasing model allows people to browse a 'store',  checkout one or more documents before recieving the documents by download, email or post. DocDownload has both subscription and shopping trolley model. Others such as Australian Academy of Surfing and the Colong Foundation for Wilderness combine 'software' style products with other shippable goods.