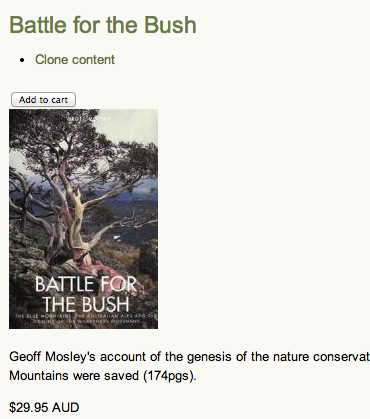 The online shop solution provided by MountainRiver CMS is flexible, reliable and covers the required e-commerce solution space without becoming over complicated. 
The Shopping Cart
The typical configuration is to create a product description page and a description for each specific item (SKU). For example you might be selling framed pictures, the product description would describe the image and item page provide sizes for customers to choose from. 
For a shopper the content looks like any other content on your site with current cart blocks able to be configured using the full power of the Content Management System (CMS).
Order Fulfillment
Accounts are created in the CMS. Optionally MountainRiver CMS will also integrate the commerce system with CiviCRM facilitating follow-up marketing. 
Order details are available online with credit card number redacted. 
Payment Gateway
The commerce system is popular and as a result has been integrated with a wide range of payment gateways. Our most popular gateways are the CBA MIGS system, Eway and CardAccess.
Extensions
This being Drupal there are interesting extensions to the commerce system. These include suggestion engines and grouping items according to various criteria in search results (faceted search).