If you have a premium site with MountainRiver CMS you may have received the streamlined editi collection process. Like edting a single page, access to the editing processes is available through the 'front-end' fo the website using buttons that are visible when logged in with editing permissions  - the in-situ editing model. 
To add a new item to the collection, visit an index that displays the contents of the collection. If it is News you may see a set of buttons at the top: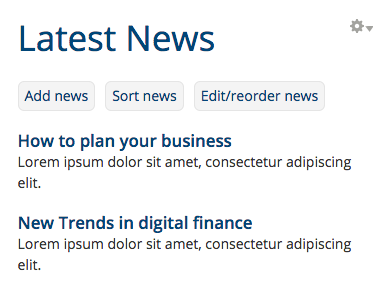 Actions
To add a news item, select the 'Add news' button. A content form will be presented which is managed the same way as for editing simple pages.

[2]

To edit an item in the collection, follow the link to the full article and use the edit button at the top of the article. Again a content form displaying the article will be presented.